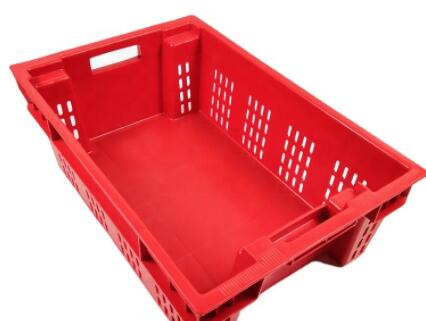 Tangshan Qiming Packaging is a professional plastic turnover basket manufacturers & wholesalers from China. Turnover Box Without Cover Plastic Basket is suitable for the storage of small parts, materials, and stationery in factories and offices. Widely used in machinery, automotive, home appliances, light industry, electronics, and other industries. It is oil-resistant, non-toxic, and tasteless. It can be used for food storage, easy to clean, convenient to turn around the parts box, neatly stacked, and easy to manage. Its reasonable design and excellent quality are suitable for transportation, distribution, storage, distribution, and processing in the production of factories.
The bottom of our plastic turnover basket has a ribbed design to enhance the pressure resistance and make the bearing more secure. The buckles are designed on both the left and right sides to achieve the perfect buckle set and easy assembly. Bold and heighten the pillar design to make the pillars more secure and easy to take. Please refer to the following pictures to learn more.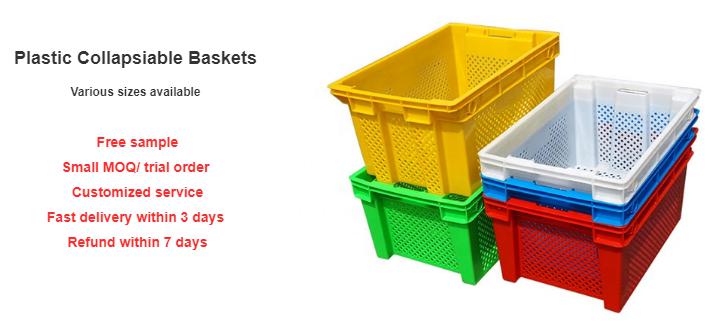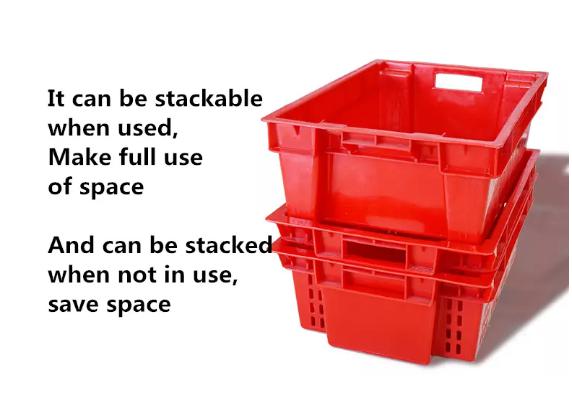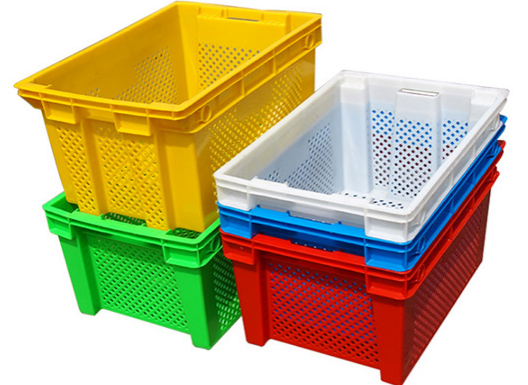 Description
Ext: 620*420*315mm and other sizes also available, please send an inquiry to get full sizes.
Weight: 1.09kg
Colour: grey, blue, yellow, and customized colors.
70% height saving with nested
This traditional stack nest container is made with industrial strength Polypropylene (PP), ensuring that it is durable and able to withstand necessary loads.
As a professional plastic turnover basket manufacturers & wholesalers, we strive to meet our customers' basic market needs while digging deeper into their actual needs. Some customers have reported that transporting empty plastic is bulky, the cost of shipping is high, and vegetables and fruits and seafood would be crushed if they could be nested, but they are concerned that the folded ones can't be strong enough to withstand it. That creates a conflict between storage space and usage needs. The 180-degree reversible nesting and the stackable plastic baskets were born. It offers the following advantages.
1. Reinforced rib design, enhanced compression resistance, and more reliable bearing
2.. Buckle design on both the left and right sides for perfect use
3. Bold and heighten the pillar design to make the handle more secure and easy to take.
4. The plastic turnover basket is convenient to turn around, neatly stacked or stackable, easy to manage
5. Rich in stock, we can make fast delivery on request.
6. FREE sample, complete sizes, and colors.
7.LOW MOQ
The plastic turnover basket is not just containers to throw things into. They're also a great way to complement your existing home furnishings. Our storage boxes and baskets come in a range of styles, colors, and materials that allow you to take a simple, functional item and make it something personal you're happy to have in plain sight. Customized service is welcomed. Contact us today! Call us or email us-008615324051286,mail@qiminggroup.com
Send a message to our online agent or leave a message if you are interested in a plastic turnover basket and no fancy one was found. At the same time, the plastic folding type collapsible type could check here. or on our another site qiming packaging.
https://www.qiminggroup.com/wp-content/uploads/2020/10/plastic-turnover-basket-1.jpg
449
426
qiming packaging group
https://www.qiminggroup.com/wp-content/uploads/2016/12/qiming-packaging-QM.jpg
qiming packaging group
2020-10-22 16:42:39
2020-10-23 17:50:54
Plastic Turnover Basket Manufacturers & Wholesalers