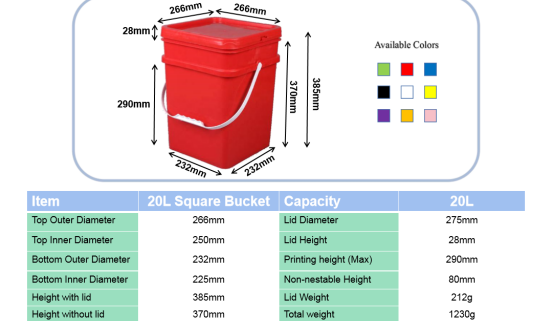 20-litre Square Plastic Buckets
The appearance of the 20 litre square buckets is simple and generous, which is more suitable for European aesthetic standards. And the square design accords with the container standard, saves the space, is convenient to stack. Now the material science and technology develop rapidly, the replacement speed is very fast, there has been a better material to replace the current material. Let plastic become more close to people's psychology, in line with the use of people's needs. There is no pollution and harm to the environment, green production, and consumption, bring more good life experience.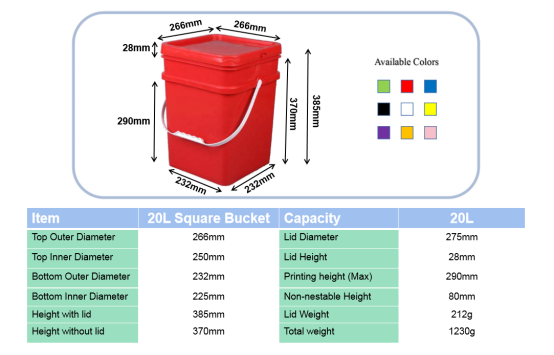 Material: PE or PP.
All barrels are 100% pure raw materials, non-toxic, tasteless, all food-grade materials, can be recycled, to protect the environment.
Color optional: red, blue, white, black, transparent or customized.
About printing, support OEM.
Production process: The plastic bucket is injection molded at one time, with a smooth surface, no splicing and seams, no rough edges, smooth edges and corners, and no protruding edges and corners, which can prevent damage caused by the collision of children. It is durable and has a long service life.
The sealing strip can be added according to the customer's demand. After the sealing strip is torn off, the sealing property remains unchanged and can be used continuously. The seal ring can be used inside the cover to increase the sealing property.
5. There are two kinds of LIDS in our square bucket. One is the pressing lid, which can be pressed many times. It is more suitable for opening and closing frequently. The other is an anti-theft cover that can be easily torn open.
6. Qiming Packaging 20 litre square plastic buckets are widely used for solid, liquid, powder indoor or outdoor, for example. packaging grains, popcorn, water, stacks, or outdoor fishing. And according to your requirements, you can use it for any conditions.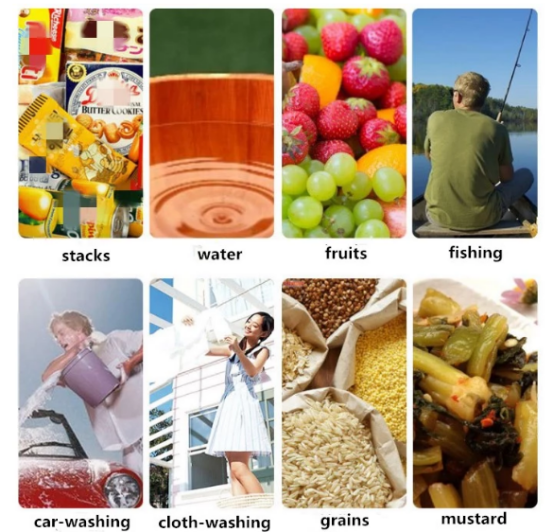 7. Why choosing us?
a. Our plastic square buckets are made of 100% food-grade plastic PE or PP materials. non-toxic and odorless, moisture-proof, high stability and intensity.
b. Temperature resistance from -40℃—120℃, can be used for two ways, for industrial purpose, chemicals, paint, oil, lubricant; and for edible purpose, drink, beverage, stacks, fish, meat, grains and so on.
c. One-piece injection process, thicken body and reinforce design, durable and long-life service life.
If you are interested in us, contact us now to get more detail! If you do not find the products you want, you can click another website: www.qimingpackaging.com. Or you can send the mail: mail@qiminggroup.com
https://www.qiminggroup.com/wp-content/uploads/2020/03/image-6.png
355
554
qiming packaging group
https://www.qiminggroup.com/wp-content/uploads/2016/12/qiming-packaging-QM.jpg
qiming packaging group
2020-03-31 09:44:45
2020-12-24 13:13:09
20-litre Square Plastic Buckets