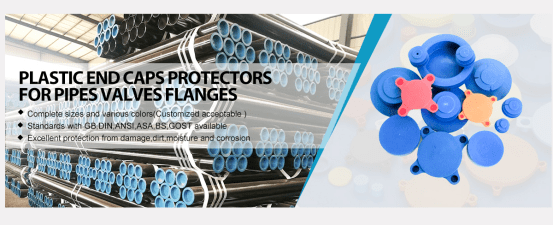 The main raw material of plastic end caps for steel pipes is plastic. Plastic is a kind of synthetic polymer material with plasticity. Together with synthetic rubber and synthetic fiber, it forms three indispensable synthetic materials for daily life. Specifically, plastic is a synthetic resin as the main component. in a certain temperature and pressure, conditions can be molded into a certain shape, at room temperature it can maintain the shape of the same material.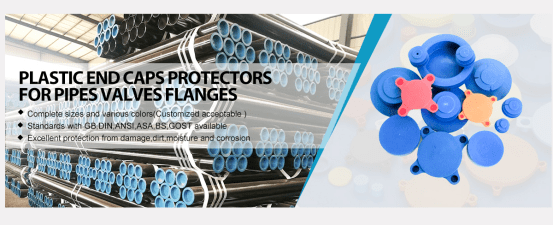 Let's introduce some popular End Cap For Plastic Pipe for your reference:
Common pipe end cap
This unique finned design enables each plug to tight fit a large range of IDs of every Nominal Pipe Size up to 48 inch OD.
Push-Fit design allows easy application of plug to pipes racked on the yard.
It provides excellent protection from damage, dirt, moisture, and corrosion during storage and transportation.
Size: Φ6mm to Φ1219mm
Material: LDPE, low-density polyethylene
Standard Color: Blue
Custom-made: Resistant to temperatures from -50 degrees C to +60 degrees C.UV-stabilised
Here are some characters of the steel pipe end:
1, Healthy, non-toxic: This product is a kind of Eco-friendly material. It is food grade and can be used for pure drinking water pipeline system.
2. Heat resistance: Under the stipulated long-term continuous working pressure, the temperature of the water transported by the pipeline can reach 95℃.
3, Corrosion resistance, no scaling: It can be exempted from pipe scaling jam and basin, no worry of bathtub yellow rust.
4. Thermal insulation and energy saving: Thermal conductivity is only metal.
If you would like to know more about our plastic end caps for steel pipes, you could also contact us by email or calling us to know more. (info@qiminggroup.com)
Qiming Packaging Pack Your More Safety Life!
If you are interested in us, contact us now to get more detail! If you do not find the products you want, you can click another website: www.qimingpackaging.com. Or you can send the mail: mail@qiminggroup.com
https://www.qiminggroup.com/wp-content/uploads/2020/04/image-48.png
225
554
qiming packaging group
https://www.qiminggroup.com/wp-content/uploads/2016/12/qiming-packaging-QM.jpg
qiming packaging group
2020-04-24 15:04:21
2020-12-08 15:46:00
Plastic End Caps for Steel Pipes