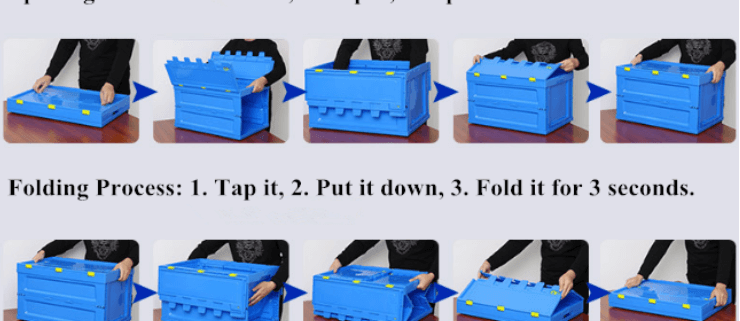 Foldable Stackable Crates
Foldable stackable crates are widely used for storage and turnover. Whether you need to store toys in your kid's closet, want to keep your gardening tools more organized in the garage, want an easy way to put vehicle essentials all in one place, there's nothing easier to use the compact, space-saving Reusable Storage Boxes. If you are interested in us, you can contact us online or send us by mail: mail@qiminggroup.com.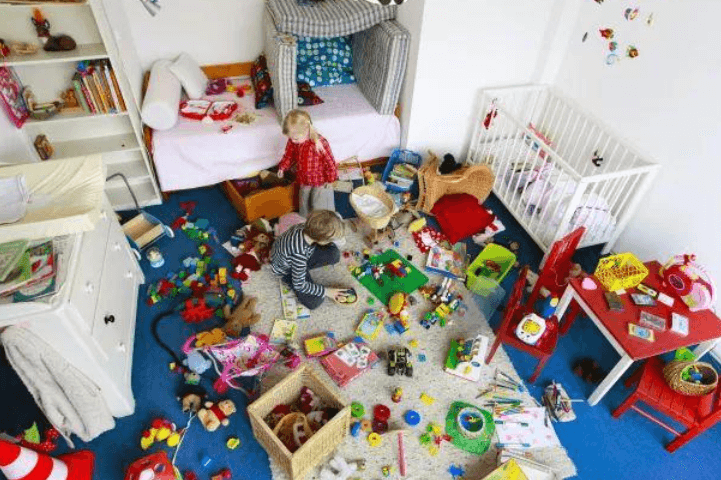 Quality plastic foldable stackable crates, which are made of PP materials, are backed by long-lasting durability, strength, and resiliency as well as superior, responsive customer service. Light weight and sturdy structure.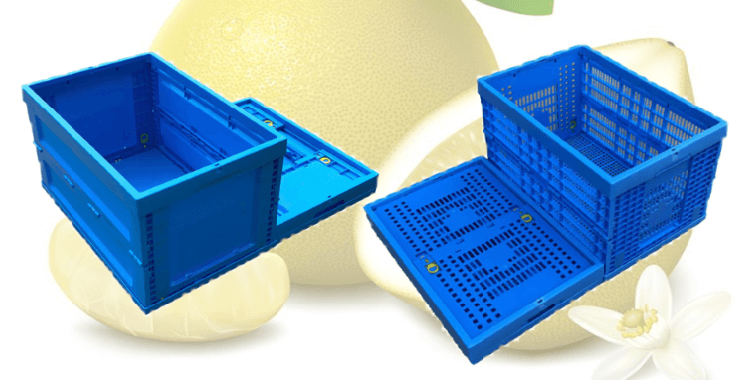 Our plastic foldable stackable crates are ideal for food daily storage and transportation.
-Food grade material, can directly touch food.
-Could be repeated use.
-Size and color can be made by customer's requirement.
-The sides can be hot stamped and screen printed with the customer's name and logo
-Label holder can be optional for attaching.
-Polypropylene, long service life, especially suitable for use in the automotive industry.
-They are resistant to temperature, acid, alkali, impact, and high strength, and applicable for the circulation, packing, and use of such industries metals;
– Several foldable crates can be stacked on top of each other. It can be stacked in multiple layers to save space and increase stability. You can organize and transport your necessary items more easily.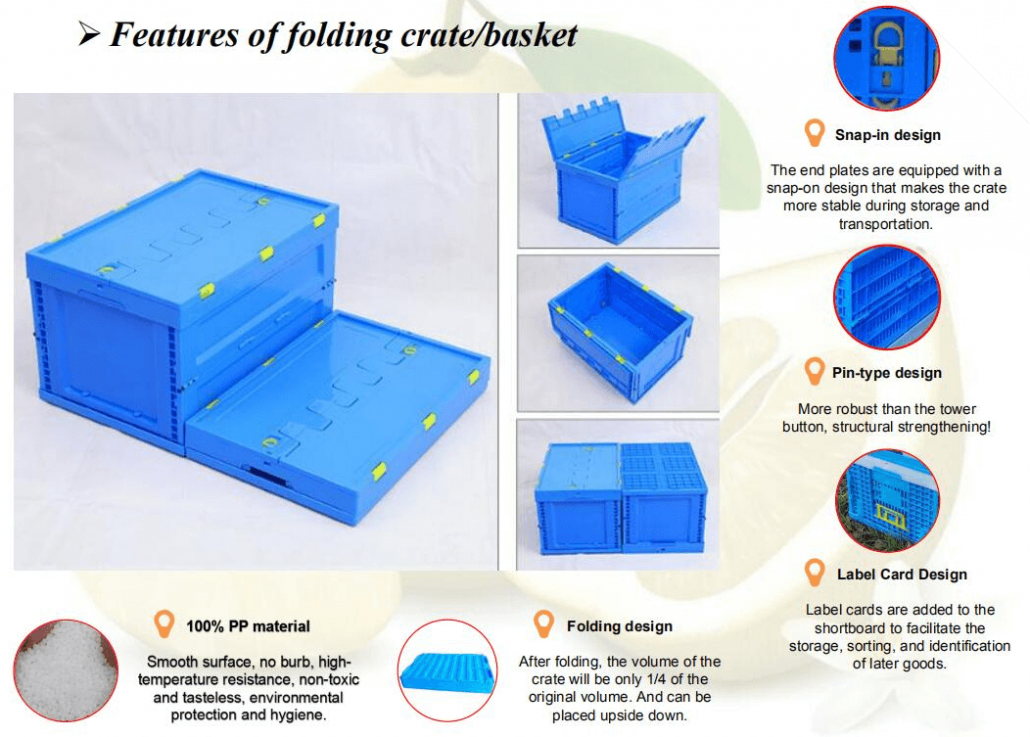 Give you more details to know more about the plastic foldable stackable crates.
The volume of folded one is 1/5 or 1/4 less than the unfolded one, which could save much space to some degree.
Such plastic storage totes are lightweight, space-saving, and combining easily.
Logo service is available, and you could print your own logo on the totes.
The bottom with close-grained ribs to increase toughness, which could prevent totes from slipping and dumping.
Internal four locks to lock both side door, and two locks to lock the lid, which are much more convenient and easier.
The corners of the totes work fine, with a smooth surface and safe use.

The process of opening and folding is easy, just operate it by hand, show you the process: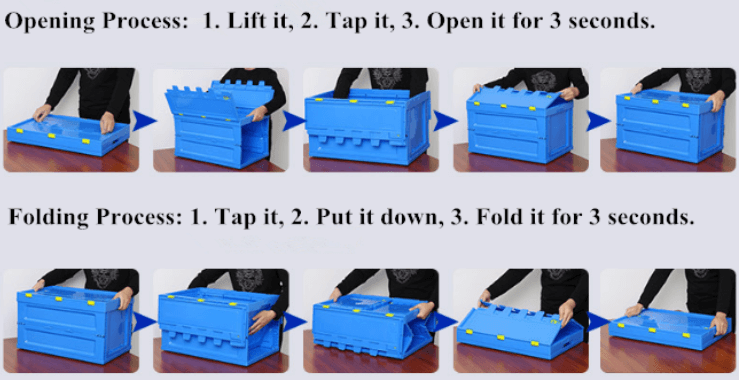 This is the size list for your reference:
The left sizes are for the plastic folding baskets, it is meshed type; The right sizes are for the plastic folding crates, it is solid type. All foldable crates can be equipped covers.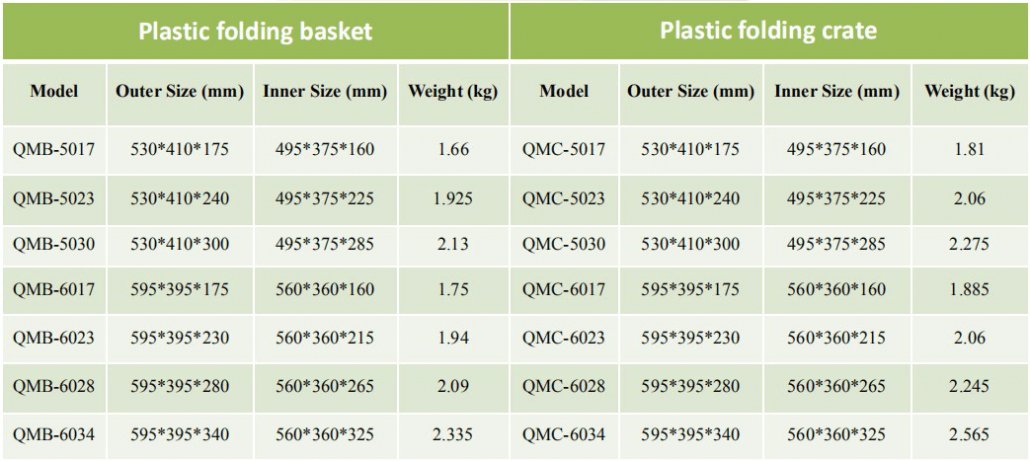 Are you looking for plastic foldable stackable crates? Qiming Packaging is a professional manufacture specializing in Plastic containers such as foldable baskets, crates, vegetable baskets, supermarket shopping baskets, etc.
If you are interested in us, you can contact us as follows:
E-mail: mail@qiminggroup.com | packaging@qimingpackaging.com
Mobile Phone: 008615324051286
WhatsApp | Wechat: 008615324051286
https://www.qiminggroup.com/wp-content/uploads/2021/03/collapsible-crates-5.png
380
740
qiming packaging group
https://www.qiminggroup.com/wp-content/uploads/2016/12/qiming-packaging-QM.jpg
qiming packaging group
2021-03-04 17:28:11
2021-03-04 17:28:12
Foldable Stackable Crates