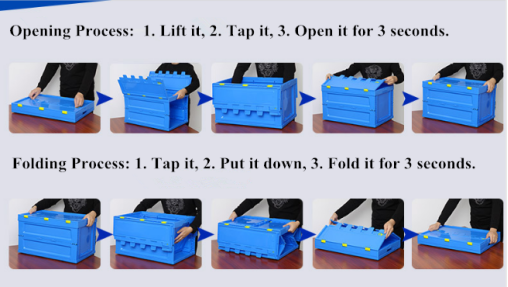 Plastic foldable crates are made of heavy-duty HDPE/PP plastic to prevent cracks and withstands years of high loads and abuses. Our plastic foldable crate are for multifunctional, portable storage anywhere it's needed! The roomy interior is ideal for everything from holding vegetables/eggs/fruits to toting cleaning supplies. 


Material: 100% PP pure material, high-temperature resistance, anti-aging, impact resistance, non-toxic and tasteless, eco-friendly.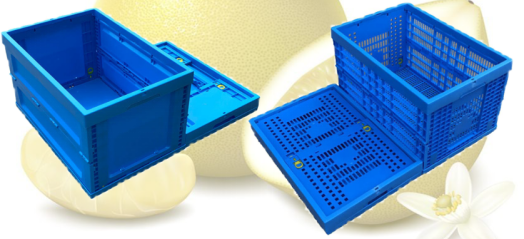 2. Advantages and features:
*100% PP pure raw materials, food-grade, no harmful substances, can be in contact with food fruits and vegetables.
*It can solve the stacking of scattered debris well and save space.
* After the loaded parts are transferred to the customer's designated warehouse and used, the empty box is folded and shipped back, which is convenient for returning funds and reducing transportation costs.
*Antistatic volume resistance 104-106Ω/cm2.
*The folding box is assembled and formed by several parts. The disassembly and assembly process is simple, and the parts are partially damaged. The parts can be replaced.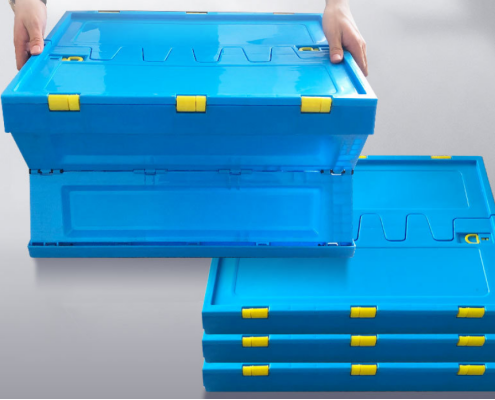 *Foldable and stacked, saving about 75% of space.
* The buckle design makes the folding basket more stable during storage and transportation.
* Wall thickness: The thickness of the upper and lower sides is generally about 1.5cm, and the surrounding is generally 2-4cm, which is very thick and strong.
*Stock is blue, other colors can also be customized.
*Can withstand temperatures from -2°to 120°
3. Uses: It is widely used, such as vegetables, fruits, seafood. Eggs, bread with packaging. Finished products and semi-finished products are used in the factory production line. Transfer and transportation of poultry on the farm.
4. How to open it and fold it? Show you the steps: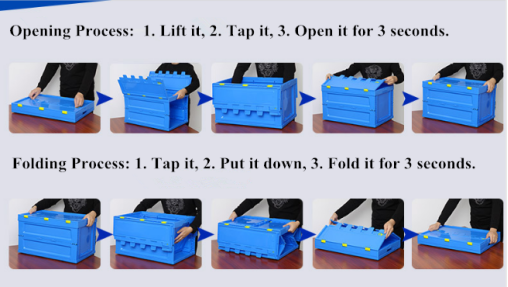 Are you looking for plastic foldable crates? Qiming Packaging is a professional manufacture specializing in plastic trays, baskets, folding crates, etc. Have a special requirement on type or size? Contact us today at info@qiminggroup.com for a better solution now. We'd love to work with you together.
https://www.qiminggroup.com/wp-content/uploads/2020/06/image-4.png
287
508
qiming packaging group
https://www.qiminggroup.com/wp-content/uploads/2016/12/qiming-packaging-QM.jpg
qiming packaging group
2020-06-28 11:08:34
2020-10-26 17:44:57
Plastic foldable crates