Qiming packaging pipe end cap plastic adopts LDPE material. Complete sizes are available. It has many good features: durable, good ductility, high temperature, and low-temperature resistance, The feature of Internal plug protection: The plug-in plastic pipe end cap is a form of protection which can also make the pipe inside the formation of a closed space, conducive to the protection of pipe.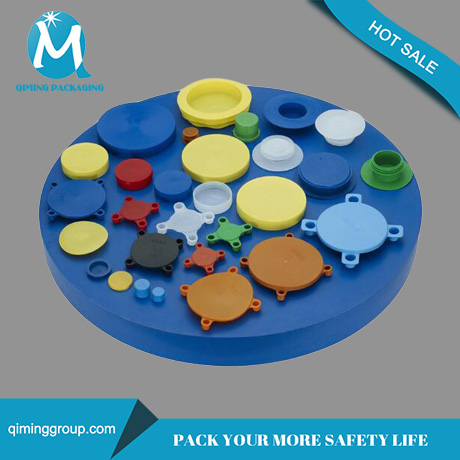 Unlike the external type, it is not possible to effectively protect the outer wall of the pipe end. Because this form of protection is conducive to the lifting of the pipe, it is also one of the more common forms.
Let me introduce the most popular pipe end cap plastic to you:
One-piece construction. It is injection-molded. Up to 78″. Internal ribs provide a tight fit and release pressure build-up.
Size: Ф6mm to Ф1981.2mm
Material: LDPE, low-density polyethylene
Standard Color: Blue
Custom-made: Resistant to temperatures from -50 degrees C to +60 degrees C.UV-stabilised

The steel pipe guard cap has different classification standards in the use, according to certain ways and methods of use and promotion. The flexible four-eye seal is easy to use not crack or break, even in severe weather, moisture, and chemical applications. It is suitable for all valve/flange ends that require dust, water, and transportation protection (or friction).
If you would like to know more about our food tin cans, you could also contact us by email or calling us to know more. (mail@qiminggroup.com)
https://www.qiminggroup.com/wp-content/uploads/2018/11/pipe-end-cap.jpg
413
1188
qiming packaging group
https://www.qiminggroup.com/wp-content/uploads/2016/12/qiming-packaging-QM.jpg
qiming packaging group
2020-04-22 15:53:41
2020-12-08 16:07:47
Pipe End Cap Plastic