Plastic Pipe Cap End Protectors
Qiming packaging plastic pipe cap end protectors adopt LDPE material. Complete sizes are available. It has many good features: durable, good ductility, high temperature, and low-temperature resistance, The feature of Internal plug protection: The plug-in plastic pipe end cap is a form of protection which can also make the pipe inside the formation of a closed space, conducive to the protection of pipe. Unlike the external type, it is not possible to effectively protect the outer wall of the pipe end. Because this form of protection is conducive to the lifting of the pipe, it is also one of the more common forms. If you are interested in the products, please feel free to contact us. Free Sample for you to check.

Let me introduce the most popular plastic pipe cap end protectors to you: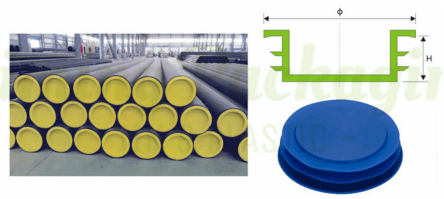 This unique finned design enables each plug to tight fit a large range of IDs of every Nominal Pipe Size up to 48 inch OD.
Push-Fit design allows easy application of plug to pipes racked on the yard.
It provides excellent protection from damage, dirt, moisture, and corrosion during storage and transportation.
Size: Φ6mm to Φ1219mm
Material: LDPE, low-density polyethylene
Standard Color: Blue
Custom-made: Resistant to temperatures from -50 degrees C to +60 degrees C.UV-stabilised
Qiming Packaging can offer featured service:
*Accept Trial Order
*Low MOQ
*Free Sample
*Non-Disclosure Agreement Quality & Refund Agreement
* Price for reasonable/Result for win-win
If you would like to know more about our food tin cans, you could also contact us by email or calling us to know more. (mail@qiminggroup.com)
https://www.qiminggroup.com/wp-content/uploads/2020/04/image-40.png
208
554
qiming packaging group
https://www.qiminggroup.com/wp-content/uploads/2016/12/qiming-packaging-QM.jpg
qiming packaging group
2020-04-22 16:15:10
2020-12-08 15:55:45
Plastic Pipe Cap End Protectors