Plastic end caps for round pipe
General physical and mechanical properties of the steel tube plastic cap: the plastic end caps for round pipe generally has high tensile strength and hardness, but poor elasticity. The friction coefficient of the steel tube plastic cap is smaller than that of nitrile butadiene rubber. This is because at this time there is a greater speed of motion, higher friction heat, which leads to the mechanical strength of rubber reduced results.

Features of the Plastic end caps for large diameter pipe:
1. Healthy, non-toxic: This product is a kind of Eco-friendly material. It is food grade and can be used for pure drinking water pipeline system.
2. Heat resistance: Under the stipulated long-term continuous working pressure, the temperature of the water transported by the pipeline can reach 95℃.
3. Dust-proof, corrosion resistance, no scaling: It can be exempted from pipe scaling jam and basin, no worry of bathtub yellow rust.
4. Thermal insulation and energy saving: Thermal conductivity is only metal.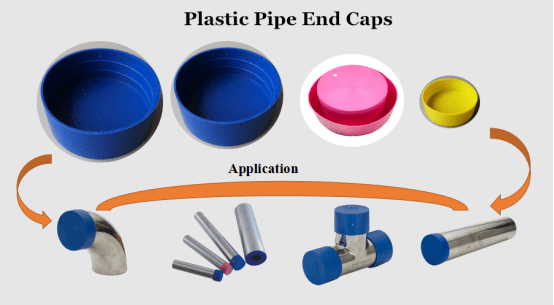 Plastic end caps for round pipe are suitable for pipe fittings, hydraulic oil pipes, hydraulic valves, flanges, valves, excessive connections, threaded screws, oil tanks, and play a role in protecting internal and external products. Not only can it improve the appearance, but it also makes the internal and external products dust-proof, dust-proof, and oil-proof. Specifically, plastics are made of synthetic resin as the main component, which can be molded into a certain shape under certain temperature and pressure conditions, and keep the shape unchanged at normal temperature.

1.The specifications:
2.Size:6 mm-1981.2 mm
3.Material: Plastic
4.Application: Stainless steel pipe
5.Logo: Customized logo
6.Technics: Injection mold of plastic
7.Packing: Woven bags or cartons or wooden cases
8.Type: Cap, external type end cap
9.Connection: Press it
10.Color:Red,blue,yellow,orange,deep blue,green,also could be customized.
Welcome your inquiry, just contact us freely.
If you are interested in us, contact us now to get more detail! If you do not find the products you want, you can click another website: www.qimingpackaging.com. Or you can send the mail: mail@qiminggroup.com
https://www.qiminggroup.com/wp-content/uploads/2020/04/image-64.png
181
553
qiming packaging group
https://www.qiminggroup.com/wp-content/uploads/2016/12/qiming-packaging-QM.jpg
qiming packaging group
2020-04-26 17:05:11
2020-11-24 11:51:33
Plastic end caps for round pipe