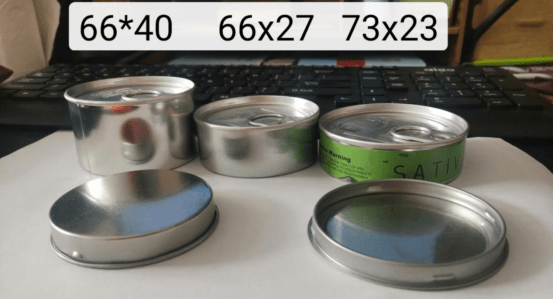 Q: What do your empty tuna cans for weed can pack?
A: They can be used for packaging some dry food,like cookies, dry fish, solid food, dry flower or weed.

100ml Pressitin can are the perfect size for storing 3.5g of dried flower. To seal the tin you simply push the base plate (bottom of the tin) into the body of the can firmly until you feel it click into place. To open, you pull the ring pull and can reseal the can by using the plastic cap provided with the Pressitin.
Now we have size 66*27 mm(diameter*height),66*19 mm,66*35 mm,66*40 mm,66*60 mm,73*20 mm,73*23 mm,73*45 mm in stock.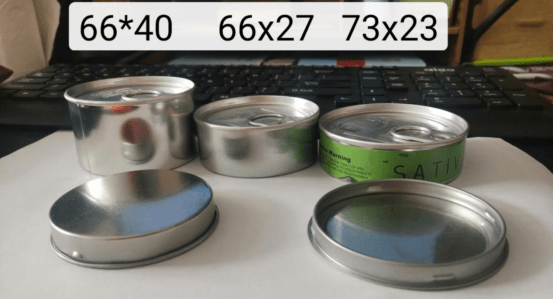 Something you should know about Qiming Packaging Empty Tuna Cans For Weed:
Colour: Silver
Packaging material: Tinplate
Closure style: Push-In Base & Pull Ring Opening
Suitable for: Gifts, Dry Products, Limited-Edition Packaging
Product options:3 parts
Suitable as packaging for dry products, the empty tuna cans are often used for creating novelty, limited edition products, gifts, promotional items or in marketing campaigns.
The empty tuna cans are coated in a food-safe lacquer, making it great for sweets and other confectionery.
The empty tuna cans' plastic top cap is an optional extra and fits all sizes of the empty tuna cans. The cap is available in either black or clear white.
Are you still have many questions to ask?
Q1: What material do you use for the cannabis tins?
A: Tinplate
Q2: What is tinplate?
A: Tinplate, also called tin-plated iron, is a common name for electroplated tin steel sheet. The English abbreviation is SPTE, which refers to a cold-rolled low-carbon steel sheet or steel strip coated with commercially pure tin on both sides. Tin is mainly used to prevent corrosion and rust. It combines the strength and formability of steel with the corrosion resistance, solderability, and aesthetic appearance of steel in one material. It has the characteristics of corrosion resistance, non-toxicity, high strength, and good ductility.
| | | |
| --- | --- | --- |
| Size(mm) | Diameter(mm) | Height(mm) |
| NO.1 | 73 | 20 |
| NO.2 | 73 | 23 |
| NO.3 | 73 | 45 |
| NO.4 | 66 | 19 |
| NO.5 | 66 | 27 |
| NO.6 | 66 | 35 |
| NO.7 | 66 | 40 |
| NO.8 | 66 | 58 |
If you are interested in us, contact us now to get more detail! If you do not find the products you want, you can click another website: www.qimingpackaging.com. Or you can send the mail: mail@qiminggroup.com
https://www.qiminggroup.com/wp-content/uploads/2020/04/image-36.png
299
553
qiming packaging group
https://www.qiminggroup.com/wp-content/uploads/2016/12/qiming-packaging-QM.jpg
qiming packaging group
2020-04-16 16:30:32
2020-12-08 16:14:15
Empty Tuna Cans For Weed